Tennessee Christmas
Tennessee Christmas is a song that was written by Amy Grant and her then husband Gary Chapman. It appeared on her A Christmas Album. I probably heard it first when my sister played it as she was a huge Amy Grant fan.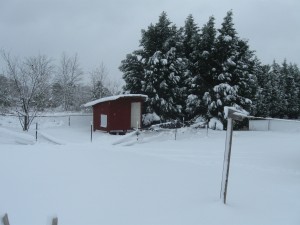 When I really started paying attention to this song was when it came out on the Alabama Christmas album. I probably bought the album at the drug store. I used to try and buy one Christmas album a year. I hate the commercialism, but love the season. The lyrics for this song paint such a scene as we see below:
Come on weather man give us a forecast snowy white
Can't you hear the prayers of every childlike heart tonight
Rockies are callin', Denver snow fallin'
Somebody said it's four feet deep, but it doesn't matter
Give me the laughter, I'm gonna choose to keep

Another tender Tennessee Christmas, the only Christmas for me
Where the love circles around us like the gifts around our tree
Well, I know there's more snow up in Colorado than my roof will ever see
But a tender Tennessee Christmas is the only Christmas for me
Now who could not picture the scenes in this song. For me a small cabin in the Rockies with a lot of snow on the ground. All you see is the house decorated for Christmas and nothing but white covered scenery.
In regards to a California Christmas as talked about in the song. No thanks, for me. I did that once and while the weather is nice and the family is always great a California Christmas seems like a blip in the daily activity.
In my visions, which are probably fantasy, a tender Tennessee Christmas is like any in the south. A time for family to gather and break bread together. On very rare occasions do we ever see a White Christmas, but the memories are more important. May God Bless you and your family this year. May your Christmas be filled with ample family time.