Maps at Night
The maps at night show a tremendous difference in the population density throughout North America. There is a great map that will allow you to zoom in on a specific area. These maps show you where the greatest safety exists during day and night, good times and bad.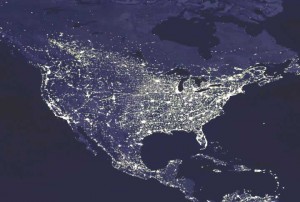 The dark areas are largely rural and safer for you, but they often will lag behind in technology. The day has come that many communications and lifestyles are almost instantaneous. Despite the fact that it is 2012 the reality is that over the last 15 years the battle has been for what they call the last mile.
The last mile in the communications industry is the connection into the home or business. That was copper and is slowly changing to fiber optic or wireless for many. The United States lags behind much of the world in connection speed and it should not be a shock as to where the slowest speeds are.
The maps at night reveal what is also the slowest areas generally. That has advantages and disadvantages. If you are looking at safety during good and bad times a rural area can be very beneficial. If you are looking for opportunity then it may not be as good.
While most areas now have at least one choice in connection and delivers some of that opportunity we need to figure out a way to expand it. The wireless wave is one way that it can be done. It has been tried numerous times, but the ability to connect remote areas and maintain that via solar power is expanding and is much cheaper than laying a connection in the ground for the last mile.
How is your connection and where do you fit in the maps of night? I would love to hear from more people to get a feeling what other areas are seeing. Please weigh in via our comment field.