Lapin a La Cocotte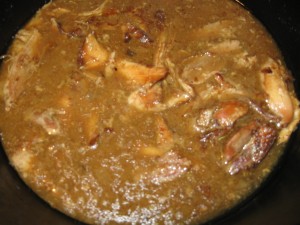 The French like much of Europe like Rabbit and today we feature Lapin a La Cocette. It is a great way to serve rabbit. We enjoy having this on the menu.

Lapin a La Cocotte is the French way for serving Rabbit!
Ingredients
3 pounds rabbit, quartered
2 tablespoons bacon fat *
1½ cups sliced onions
2 garlic cloves, minced
3 tablespoons flour
2 cups chicken stock
1 cup red wine
1 teaspoon dried thyme
2 teaspoons dried parsley
2 bay leaves
salt and pepper
Instructions
In a medium-sized Dutch oven or heavy flat-bottomed roasting pan, melt the bacon fat.
Add the onions and garlic.
Cook until translucent; remove from the pan.**
Add the rabbit pieces and sauté over medium heat until rabbit is golden brown on each side.
Sprinkle on the flour and continue to brown rabbit for another 5 minutes or so, then add the onions and garlic back in the pan along with the chicken stock, red wine, thyme, parsley and bay leaves.
With a wooden spoon, stir the bottom of the pan to loosen the browned bits on the bottom.
Cover and simmer over low heat for about an hour, adding more stock if necessary. Salt and pepper to taste.