Chicken Tractor
The proper use of a chicken tractor will pay big dividends in your garden or yard. The downside is that you may have to move the tractor once or twice a day. The huge benefit is that the fertilizer hits the ground and does not need to be moved. It is at such a small concentration level that it will not burn the soil or vegetation.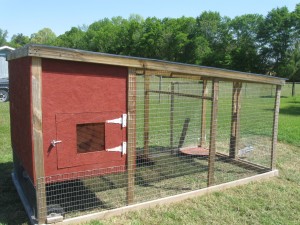 The results of properly moving a chicken tractor will be evidenced in the lush vegetation it leaves behind. There are many different versions and they basically are portable coops. You will see them built in a variety of shapes and sizes with different moving mechanisms. One huge upside is that there is no build up of chicken stuff.
We all know that moderation is king and too much of one thing is bad. A chicken tractor helps to prevent that and I think the chickens may be happier. The ones that I tend to like allows for sunlight to penetrate everywhere except the nest box. Sunlight is a great sanitizer and equalizer.
The unsanitary conditions in a traditional chicken run are not seen when using a chicken tractor. Another advantage to using the style we are is that it is self contained and no way for a chicken to fly out.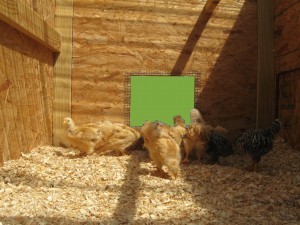 If you are going to keep chickens there is no reason to let the fertilizer go to waste. The big difference in using a chicken tractor is that the droppings do not have to be moved whereas the traditional coop requires it to be moved at least twice. The traditional coop has a hot manure and needs time to cool off before becoming fertilizer.
I am happy to announce that Ron Foster has a new book out. I really liked his trilogy as it was a very entertaining read and it was packed full of information. The new book The Solitary Man is about a man trying to lead a more self-sufficient life in advance of a solar flare. I look forward to seeing if he has a chicken tractor.You can purchase the book from Amazon if you are impatient.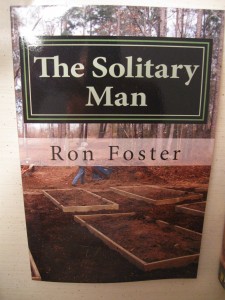 Ron is a very generous man. You can learn more about him at http://disaster-fiction.blogspot.com/ and his latest gift to us is that three readers will get a copy of his book.
The first person to identify and respond via a comment on that post as to what kind of meat rabbits I keep that we talked about yesterday wins a free copy. Leave the comment on the Homestead Meat Rabbit post.
A second copy will go to a random person that leaves a comment on this post. It can be as simple as saying I want the book. I will select the Winning comment Friday morning. Entries will be cut off at 11:59 PM EST on Thursday April 12.
The third and final copy will be a randomly selected email subscriber to our blog. I will do this drawing on Thursday morning. If you already subscribe you are already entered. If you do not subscribe yet then fill out the form on the right hand side without delay.