Applied Knowledge
No matter how much money you budget or books you stock up applied knowledge will trump all. I have been waiting to see exactly how many of my Grape vines would come up this year. We planted 3 grape vines two years ago. I was fortunate that I was able to take a class on commercial growing of grape vines.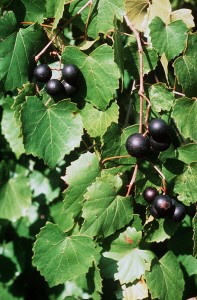 The variety that grows best in our area is Muscadine. There are a lot of benefits to Muscadine and depending on the variety can be shipped, table grapes, make jam, and even wine. We went ahead and planted three different varieties. I followed the instructions for a commercial vineyard and buried the vine about 12″-18″ below ground.
That has proven to be a great thing as all three have survived a drought where many other plants have not. The problem that I have is that the plan for year 1 is to get it up to the support wire. Year 2 you want to see the grape vine send it's leader horizontal down the wire. Finally in year three we plan of getting some fruit.
If you read my story on growing tomatoes or blueberries then you know nothing seems to go as planned. The first year we did not make the wire. Even the second year we did not hit the wire. I am hoping to have at least one grapevine on the wire this year. Perhaps we can have fruit in 2 years if we are lucky.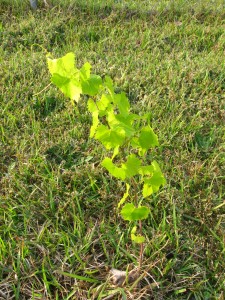 This goes to show that applied knowledge is the key. If we were dependent on the plan I would be planning to harvest grapes this year. Fortunately I can still get grapes in other places. I am very happy with the fact that the grapevines are still living.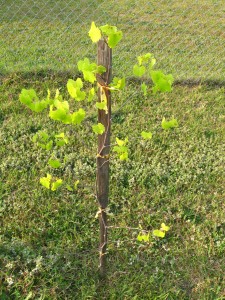 I am fairly confident that once they get on the wire we have the necessary parts in place to ensure a very long success story for these grapevines. Now I know because of the applied knowledge that a good time frame for new grapes is 3 to 6 years. What other things do you think are important to have experience instead of theory.