Saving Santa
Thanks to the folks over at Lanternfish we have a guest author today. Taking his queue from the Creative writing section, James decided to write a short little story about Saving Santa. Please read below the delightful story that our guest author James has written.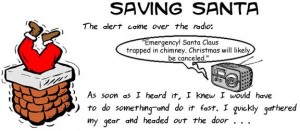 I tried the car but it wouldn't work. Next I went to the barn and got my horse and rode off. I went house to house and I couldn't find him. So I stopped and checked my Santa finder and it said, "100 miles away".
So I found an airport and you know what it was open! Except the air planes were not in use. It was just to be used as somewhere to wait.
So I rode off again and I found Santa! I helped him out and it was my chimney so I opened the door so he could get to work.