EFAD Wakes Up the People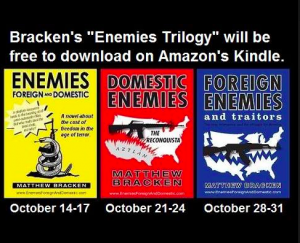 Starting today EFAD wakes up the people and you do not even have to pay anything for it! The government already had given him a security clearance so there was no need for them to rush one for him when he busted out with the same insight that caused Tom Clancy to get one.
People were amazed at the details the late Mr. Clancy used to imagine and Mr. Bracken is no different except he has run miles in the shoes of Special Operators. He uses his creative talent to showcase the nefarious schemes that the plague of our government would dream up. He hits very close to home in his trilogy and I absolutely loved Enemies Foreign and Domestic as I reviewed here. Now you can get it for free!
The best part of this is that in successive weeks you can get the other two books for free as well. This is good stuff and might just cause some people to change their mind. It is time EFAD wakes up the people! It is our job to get the word out today and get people downloading it and reading it over the next two days. Make it a point to tell at least three people!