Easy Pantry Meals
On those days that time gets away I am glad we have easy pantry meals available. I have talked about how canning can be used to get ahead of rising prices. The backbone of our canning is the All American canner that I reviewed here. We use it on a regular basis to store food for use much later.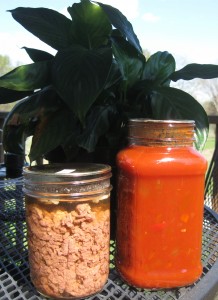 One of the great combinations for quick meals is something our family enjoys. My children have been in love with sloppy joe's since having them at a friends house. We of course pull out the canned ground beef that we talked about before. We also pull out the canned sloppy joe sauce that we have already done. We followed a wonderful recipe that allows us to know the ingredients. We were able to put up seven quarts of sauce.
On those rushed days we take out a quart of sloppy joe sauce with a pint of ground beef and warm it up. Pair that with some rolls and the children are as tickled as can be. It is very refreshing to serve them a home cooked meal that we know the ingredients. Many times before we would have opted for fast food.
What other ways can we be prepared for the long days of Spring and Summer spent outside doing a list of chores and playing? It is important to spend time with the children when they are young. I am just waiting on more things we can do ahead of time to maximize the time. Please share with a comment below.