Cheesy Beef Spirals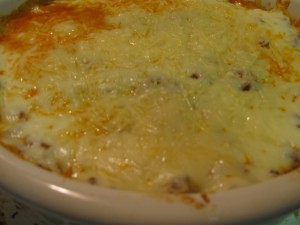 The possibilities are limitless with Cheesy Beef Spirals. This is another one of those dishes that can hit the right spot if prepared in a Dutch Oven. It is very versatile depending on the ingredients that you have on hand.
We have prepared it before hand and then done the oven part when it was time for dinner. Add a salad and this can be a complete meal that will satisfy the most picky eaters. If you feel the need you can also add in some things that little picky eaters will not eat willingly.

Prep time:
Cook time:
Total time:
Cheesy Beef Spirals is a great meal for the table. It has the ingredients necessary to make it a requested item from those age 1 to 90. It's versatility can be extended by finishing it in a dutch oven.
Ingredients
2 cups spiral pasta
2 pounds ground beef
1 large onion, chopped
4 garlic cloves, minced
1 jar (26 ounces) spaghetti sauce
1 can (4.5 ounces) sliced mushrooms, drained
½ cup sour cream
½ pound processes American cheese, cubed
2 cups mozzarella cheese, shredded
Instructions
Cook pasta according to package directions.
In a large skillet brown the ground beef with the onions and garlic.
Remove from heat and stir in spaghetti sauce and mushrooms.
Place ½ cup of meat sauce in a greased shallow 2½ quart baking dish.
Place half of pasta over meat sauce.
Place ½ of the remaining meat sauce.
Cover with sour cream
Top with American Cheese.
Cover with remaining pasta and meat sauce.
Sprinkle with Mozzarella cheese.
Cover and bake at 350° for 25-30 minutes.
Uncover and bake 5-10 minutes longer until bubbly.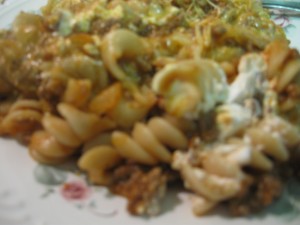 Cheesy Beef Spirals is a wonderful recipe that I hope will find it's place on your menu! It will add skills to the stockpile if you choose to learn how to do it with the dutch oven.