Castigo Cay Free
What better way to spend Veterans Day then to run and grab Castigo Cay free! This is one of Matt Bracken's book and it was about a veteran Marine sniper who was living an interesting life.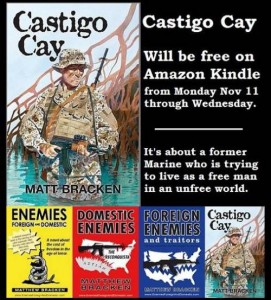 Since today is Veterans Day I hope all of us take time to thank a veteran as without them Freedom would not be on the table. Speaking of on the table I know Golden Corral and many sponsors have a free meal planned to say thanks!
It is the least we can do for the men and women that have deserved. Take the opportunity to curl up with Castigo Cay free and read a great book that will cause you to reflect on the freedom and liberty our Veterans have ensured us!