Castigo Cay by Matt Bracken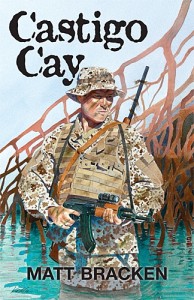 Well I finished reading Castigo Cay by Matt Bracken. As usual Bracken does not disappoint. He says that this is the first in a series and after finishing it I certainly hope so. This novel features a former Marine sniper who spends his time sailing around the Western Atlantic.
If you have read any of Bracken's novels or my reviews than you probably notice one prominent feature is sailing. Well in my biased opinion there is certainly nothing wrong with a cast of characters that embody the spirit and camaraderie of the sailing lifestyle. The main character, who is a former Marine sniper named Dan Kilmer, spends his time sailing around and staying one step ahead of the Police or Mafia type people in different ports.
He continues to hide from a United States of America that continues the slide into a Police State suffering from a Greater Depression that is brought on by our precarious financial situation. Our hero starts the book in the Bahamas and destitute as he has careened his own sixty footer to scrape the bottom.
You have to love a novel that harkens back to the Romantic nature of Pirates and the tradition of careening in the Bahamas. While in the process he manages to lose his current girlfriend that you know means a little more than most of his long parade of women in every port.
Our hero and his cast of merry mates take off to rescue the damsel in distress after learning of the nefarious characters she has associated with. While the plot has certainly been done before the way that Bracken tells it and his embellishments make this a page turner.
The knowledge the author has about sailing, military tactics, and weapons pours from the novel giving it instant credibility. I encourage anyone to pick up the book and join Kilmer and gang as they head back to the US and see if they can rescue the damsel in distress.
I will be looking forward to the next book in this series as I can assure you that I will be reading it!