Dutch Oven Stuffed Shells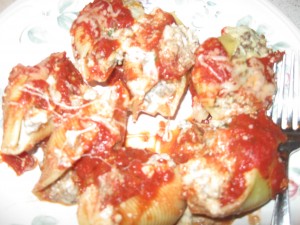 The food preparations continue when you make Dutch Oven Stuffed Shells. It does take a little change in your cooking but not much. After a long work day the masses will love this filling meal. Do not forget the garlic bread as it is a good complement. Top it off with a salad and you have a complete meal.
Any meal that can be prepared in the kitchen or at camp has to be a good one. You will get many compliments with Dutch Oven Stuffed Shells! The only change in preparations is using a dutch oven surrounded by coals versus using the oven in the house. It does a fantastic job and the goodness pours out!
Dutch Oven Stuffed Shells
Prep time:
Cook time:
Total time:
Dutch Oven Stuffed Shells are a hearty treat no matter how or where the final cooking is done!
Ingredients
20 Jumbo Shells
1 pound Ground Beef
5 cloves garlic, minced
16 ounces Ricotta Cheese
8 ounces Mozzarella shredded
4 ounces Parmesan Raggiano Cheese grated
1 egg
1 quart homemade spaghetti sauce
Instructions
Cook pasta according to package directions.
Preheat oven to 350° or get coals ready for dutch oven.
Brown Ground Beef and garlic in a large skillet over medium heat until brown.
Combine Ricotta, mozzarella, 2 ounces Parmesan Raggiano and egg in a medium bowl.
Stir in beef and garlic mixture.
Spread ¼ quart spaghetti sauce in 13×9 baking dish or dutch oven.
Spoon about ¼ cup cheese meat mixture into each shell.
Arrange shells in a single layer if possible.
Sprinkle any remaining cheese meat mixture over stuffed shells.
Top with remaining spaghetti sauce.
Sprinkle remaining 2 ounces of Parmesan Raggiano over the top.
Bake for 25 minutes, or until heated through in oven or dutch oven.