Preppers Trilogy
Win a free set of books! Given all the recent solar flare activity this set of books could be ripped from the headlines. Ron was ahead of the curve though. The Preppers Trilogy covers what happens after a solar EMP knocks the electrical grid completely out.
Follow along as our displaced prepper attempts to get home from Atlanta to Montgomery and survive for the next few years.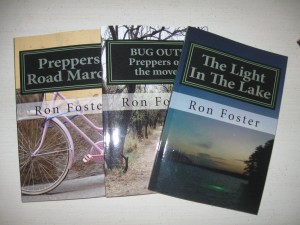 We are giving away a trilogy for our readers. You must comment on this page to be entered. So go ahead and give us your best tip or plan to survive whatever nature or man deals out.
Special thanks goes out to the author Ron Foster! You can find more information about Ron at http://disaster-fiction.blogspot.com/
He is truly preparing the people for preparedness through his talented pen. I look forward to being entertained and educated by his works in the future.
Thanks to his generosity we are giving away a Preppers Trilogy set this week. All Entries must be submitted before 9:00 PM EST February 8,2012. Only one entry per reader allowed.
Update February 9,2012
Congratulations go to Don it looks like he has some winter reading courtesy of Ron Foster.
I am happy to see so many helpful tips. I think we all have a lot to learn and improve upon. For those familiar with the Boy Scouts "Be Prepared"!
Let's do this again! The Second chance give-away is alive and well. Sorry Don is not available for the drawing next week. All entries must be submitted by February 15,2012 at 9:00 PM EST.
Update February 15,2012
Congratulations go to Tom! He can now get some knowledge on how the Alabama Prepper's deal with no power courtesy of Ron Foster.
I think whether you have been prepping for a day or years there have been some useful tips. I keep learning some new ones and checking off on some old ones.
I say we do it for a third time! Thanks to Ron Foster and his generosity it's on. We'll call it the Third time trilogy. Sorry Don and Tom ya'll are not eligible as you guys will be busy reading and learning. Just leave a tip and you are entered. All entries must be submitted by February 22,2012 at 9:00 PM EST.
Update February 22,2012
Thanks very much for all the entries. The comments are all very helpful. Thank you to Ron Foster for allowing these to happen. He is a gentleman and educator trying to get the word out.
Congrats to Russell and Kevin for winning sets of the Prepper Trilogy. Congratulations to James as well as he gets a copy of Preppers Road March.
I hope all the winners enjoy their books.