Preppers Road March
Ever wondered what to do when an EMP hits and you are away from your gear? Ron Foster has written the how to book that is narrated by a displaced prepper.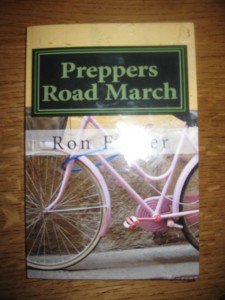 Through the generosity of the author we are giving away a copy of Preppers Road March. Get the first of the trilogy this week by adding a comment or tip on this page.
We will have a random drawing on Thursday January 19 so have our comments or preparedness tips in by 3:00 PM EST to see who the winner is.
Thank you in advance for your tips!
Update 01/20/2012
Congratulations to Zach for winning the 1st copy of Preppers Road March by Ron Foster. I am certain you will find something useful in it. My highlighters were busy during reading.
The great news is that we are going to have a 2nd Chance giveaway! That's right this week we will draw 2 more names to get their own copy. Those that have already commented are already entered. If you have not entered already please join in.
To liven things up even more those 6 that already have one entry are allowed one more entry based on new comments. Sorry Zach you are ineligible to win again. Get your comments and tips in. We all win by learning more about preparedness.
Thanks to all of you for participating and kudos to Ron Foster for his generosity.
We will draw for the next two winners on Thursday January 26th!
Good Luck!
Update 01/26/2012
Congratulations to Watchingmonkey and Bill Jones as they are the winners of the 2nd Chance Give-away. I hope they get the same enjoyment out of the book that I have.
Special thanks goes out to the author Ron Foster! You can find more information about Ron at http://disaster-fiction.blogspot.com/
He is truly preparing the people for preparedness through his talented pen. I look forward to being entertained and educated by his works in the future.