Encyclopedia of Country Living
What do you have on your shelves for the times that you are attempting something new? Carla Emery wrote The Encyclopedia of Country Living and it shows that it was a labor of love. It is a solid reference to doing almost anything around the homestead. It is full of information and tips that anyone can employ.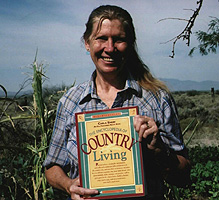 There is no doubt in my mind that with some common sense and Carla's book you can do almost anything that might come up. It is a grea reference book and one that anyone seriously about prepping or self-reliant living should have on the bookshelf.
While most readers are not going to sit down and read from cover to cover like me it is a great book to learn a new skill. It is diverse book as it covers almost anything that can come up. I have the 10th edition and it is one of the first books we pull of the shelf for new viewpoints.
What books do you count on for go to material? Feel free to leave a comment or sign up for our email updates as we will all benefit from your thoughts and possibly see those in future reviews.