Tebow 316
It seems that Tebow 316 is becoming a familiar combination. A man that has picked up his cross and should be a shining example for us all is routinely mocked. They say that he can not make it as an NFL Quarterback.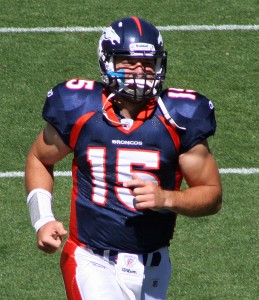 All the Denver Broncos and he did Sunday were knock out the Pittsburgh Steelers. These Steelers may have been hobbled and injured, but they had the most game experience of any team in this years playoffs.
As I wrote about in December the impact that he had in the National BCS game while wearing John 3:16 on his eye black caused 92 million to search the verse. That was the first instance of Tebow 316.
For an encore on another great stage all he did was throw for 316 yards and average 31.6 yards per completion. Are we starting to see a trend here? Many will say that these are all coincidences. Tebow 316 is about much more than a coincidence.
Tebow and the Broncos did what it took to win the game today after "backing in" to the playoffs. Guess what in the NFL all you have to do is get in. Does God really care what a man is doing on a football field? Can he really impact a game for his mission.
These are all questions that do not matter. Maybe one day we will understand as we sit with our Father, but for now all that matters is the discussion. How many people that ordinarily would not talk about faith are discussing it or questioning their lack of faith.
My god has a tendency to plant small mustard like seeds in people and they may take years to sprout. We never really know when the fertile soil will develop, but our faith causes us to try. Tim Tebow 316 may be planting or tending seeds just by staying true to who he is. The choice does not matter as we can see the impact that Tebow is having on this country.
Now the storyline switches to the Patriots. It will be a tall task for the Broncos as all NFL playoff games are but it can happen.
Let us close out by looking at some stuff from Facing the Giants
"With God, nothing is impossible"-Grant Taylor

"I want God to bless this team so much people will talk about what He did. But it means we gotta give Him our best in every area. And if we win, we praise Him. And if we lose, we praise Him. Either way we honor Him with our actions and our attitudes. So I'm askin' you… What are you living for? I resolve to give God everything I've got, then I'll leave the results up to Him. I want to know if you'll join me"-Grant Taylor
It is time Men of Courage! Stand up and prepare for rain!
GB²