Simplicity Mac and Cheese
This is one of those meals that guarantee good success but Simplicity Mac and Cheese makes sure it is easy and rich for the table. I first became associated with this recipe over at Farm Bell Recipes as it is called Amish Mac and Cheese probably due to it's simple methods. I highly doubt it is something to be found on an Amish table with the ingredients as is.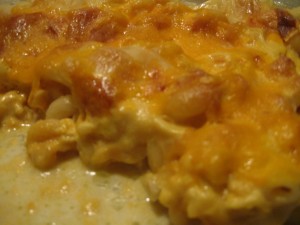 This is one that be changed depending on ingredients on hand. I rarely have Velveeta, but have noticed the same goodness with shredded cheddar cheese.

Simplicity Mac and Cheese
Prep time:
Cook time:
Total time:
Simplicity Mac and Cheese is a great addition to the menu. The preparation time is minimal with this recipe but you would never guess it when it is on the table.
Ingredients
3 tablespoons melted butter
2½ cups uncooked elbow macaroni
8 ounces Velveeta cheese- cubed
4 cups cold milk
Instructions
In an oven proof 2 quart container combine melted butter and uncooked macaroni.
Stir well to coat all pasta with butter.
Cover with 8 ounces cubed Velveeta.
Pour 4 cups cold milk over pasta and cheese.
Bake uncovered at 325° for 1½ hours.
***Do not stir while baking!***