Cree LED Light Bulb
The technology has been changing fairly rapidly in the lighting answer and the Cree LED Light Bulb has finally delivered the killing blow to incandescent light bulb. As I have talked about before man has been searching for an improvement to the flame ever since the caveman days. The new dawn has arrived.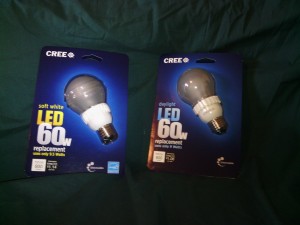 Cree has partnered with The Home Depot to deliver a bulb that has a 10 year warranty and costs under $7.00 for a 60 watt light bulb replacement. The important thing is that these bulbs actually deliver the light and the coverage from the flick of the switch. It does this with an amazing 9.5 watts of electricity. I have not been used to a full 60 watts of light since switching to CFL lights and after getting these home the Cree LED light bulb actually reminds me of the incandescent bulb.
While there will still be a use for the incandescent bulb if for nothing else other than new baby chicks for a warming bulb. The Cree LED Light Bulb will be the de facto standard for my household. No more mercury and slow warm up times in my house when we flip the switch. I would encourage you to check it out.