Crazy Chicken Combo
The crazy chicken combo is not one I would have ever dreamed up. The inspiration for it is Anthony's Chicken. It is an eclectic ingredient list that leaves one frightened initially. Looking at something different we tried this meal several years ago.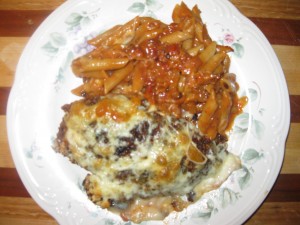 It is certainly different and unique. This crazy chicken combo blends together to make a very good meal and has made it to our meal rotation. It generally makes it appearance on a bi-monthly basis.

Prep time:
Cook time:
Total time:
This crazy chicken combo has no hot spices but will make you slap your knee with the taste. It is a fairly simple meal to put on the table.
Ingredients
1 box dry penne pasta (currently shrunk to 13.25 oz.)
2 eggs (pasture raised of course)
½ cup milk (buttermilk used occasionally)
dash of salt
dash of pepper
4 skinless, boneless chicken breast
1 cup bread crumbs
½ cup olive oil for frying
2 tablespoons butter
8 slices bacon
1 cup chicken stock
½ cup tomato paste
1 onion, diced
1 (18 ounce) bottle honey mustard barbecue sauce
3 tablespoons spicy brown mustard
1 cup shredded Monterey Jack cheese
Instructions
Preheat the oven to 350 degrees F (175 degrees C).
Bring a large pot of lightly salted water to a boil.
Add pasta and cook for 8 to 10 minutes or until al dente
After rinsing and draining put in a deep 9x13 inch baking dish.
Cook bacon until crispy and then crumble and set aside.
Heat the olive oil and butter in a large skillet over medium-high heat.
In a bowl, whisk together the eggs and milk.
Season with salt and pepper.
Dip the chicken breasts in the egg mixture, then roll in bread crumbs to coat.
Fry chicken breasts until the juices run clear, and they are well browned on both sides. Place aside to drain off excess oil
Cook onion in skillet until translucent
Add the chicken broth, tomato paste, bacon, bbq sauce, and spicy mustard.
Simmer for 5 minutes.
Pour the sauce over the pasta in the dish
Put chicken on top of pasta
Sprinkle shredded Monterey Jack cheese.
Bake for 20 minutes in the preheated oven, until cheese is melted.
Generally when we have this meal there is enough leftover pasta and sauce for lunch the next day. There are times when we add a fifth chicken breast for the lucky lunch recipient.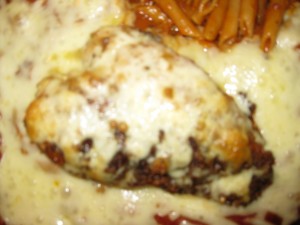 This crazy chicken combo is an alternative to the usual fare that is put on tables. I know it has made a place on our food rotation. I hope that it will find a way to your table as well.
GB²