Storey's Basic Country Skills
If you like the Storey's series of books than the Basic Country Skills will be right up your alley. This is a compilation of many of their best authors. After I checked it out of the library for the third time my wife decided to purchase a copy for me.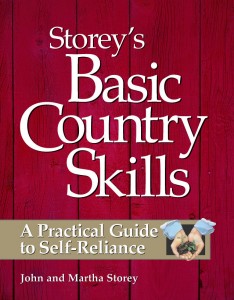 It is an illustrated guide for those people living in the country. It contains everything from buying land, plumbing, woodworking, and taking care of livestock. I have made chairs out of this book and people remarked they were one of the most comfortable chairs they ever sat in.
I love the books from Storey and have sat down and read this book cover to cover probably three times. It keeps me reading and dreaming of all the things that need to be done around the homestead. If you are looking for a great reference book than I would not hesitate to purchase this one.
It features an easy reading style with pictures and great tips. I know my copy is well used. What kind of reference books do you have on your shelf?